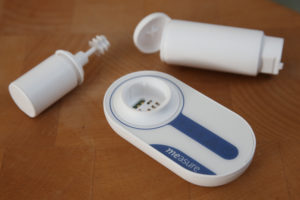 Oxford MEStar has recently entered the In Vitro Diagnostics (IVD) market to develop handheld, point-of-care test devices.
Having acquired the entire intellectual property, trademarks and assets from Mode Diagnostics Ltd in August 2016, Oxford MEStar is developing a consumer health test for bowel health, which uses a proprietary electrochemical detection technology.
Oxford MESTAR has setup a R&D lab at the Glasgow University Incubator to carry out further product development, regain the CE mark certification and re-launch the measure product in the UK market. Mass production will be undertaken in China via Scottech Medical Co. Ltd, a Chinese JV in Tianjin. The product will then be launched in the Chinese market.
Oxford MEStar will continue to work in partnership with the University of Glasgow and seek financial support from Scottish Enterprise to develop new products based on the measure technology and product platform.
Oxford MEStar will develop clinical and home testing products for other cancers and infectious diseases in the future. Oxford MEStar welcomes partnership and collaboration opportunities. If you are interested in collaboration with us, or require our services, please contact us.